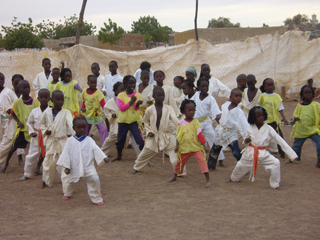 Sales Exhibition Art and Creativity, for a Good Cause
Sales Exhibition Art and Creativity, for a Good Cause
Reformed Church,
Achterweg 2,
Nieuwkoop
Friday, November 26 from 10.00-16.00 hours
Saturday, November 27 from 10.00-15.00 hours
Last time support for the karate training, this time: training women to become tailors in Dabbé, Mauritania. All exhibitors donate 15% of their proceeds to a project of Silent Work.
Wilde Ganzen will yield double the amount!
What to see and buy:
– Flower arrangements
– Various jewelry
– Paper art, watercolors
– Embroidery and patchwork
– Painted silk and textile
– Toys of tissue
– Ceramic and mosaic
– Statues and cement figures
– Different types of cards
– Etchings and ink drawings
– Tiffany
– Jams and honey
– Screens and Boxes
– Reborn dolls
– Soap
– Candles
More information: 0172-571307 / 0172-571604
Thanks to all who are ready for us again!